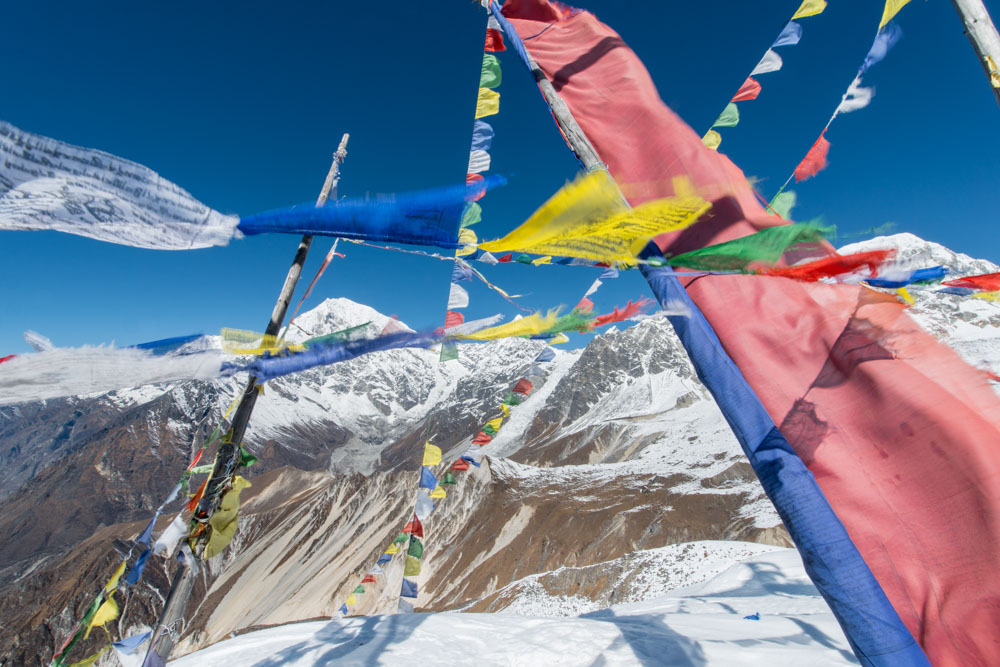 For a trek in the full nature while being located very near to Kathmandu
Located north of Kathmandu, the trekking circuit in the Langtang region is one of the most accessible trekking tours. It is one of the most popular trekking region for hikers who wish to trek in the Himalayas while not being far from Kathmandu.
Under the influence of a Tibetan lifestyle, the Langtang region is blessed with a beautiful nature. You will find varieties of rhododendrons, bamboo forests, majestic waterfalls and the Himalayas with snow-capped peaks. A trek all in diversity and very close to the Nepali capital.
Your trek begins with the arrival by bus to Barkhu (1860m), this path that will take you through rice terraces, forests of pine and rhododendron, and villages of the Tamang ethnic group. The highest valley of Langtang is the mountain grazing area. Local residents are mostly Sherpas and Tibetans.
The proximity to the Langtang Lirung Peak (7225m) allows you to see the glacier from the summit to the bottom of the valley. The trekking of Langtang does not take into account the ascent to the top of this region. We will stop at the village of Kyanjin, located at an altitude of 3850 m.
Despite being very close to Kathmandu, the Langtang region is as wild as all the Tibetan highlands with an idyllic rural landscape.
DAYS 1: KATHMANDU
DAY 2: DEPARTURE FOR SHYABRU BESI
DAY 3: SHYABRU BESI - LAMA HOTEL
DAY 4: LAMA HOTEL - LANGTANG
DAY 5: LANGTANG - KYANJIN GOMPA
DAY 6: KYANJIN GOMPA - TSERGO RI (4,950 M) - KYANJIN GOMPA
Day 7: Kyanjin Gompa (3860m) - Lama Hotel (2480m)
Day 8: Lama Hotel - Syabru Besi (1460m)
Day 9: Syabru Besi - Kathmandu (1350m)
Day 10: Return flight to your destination.