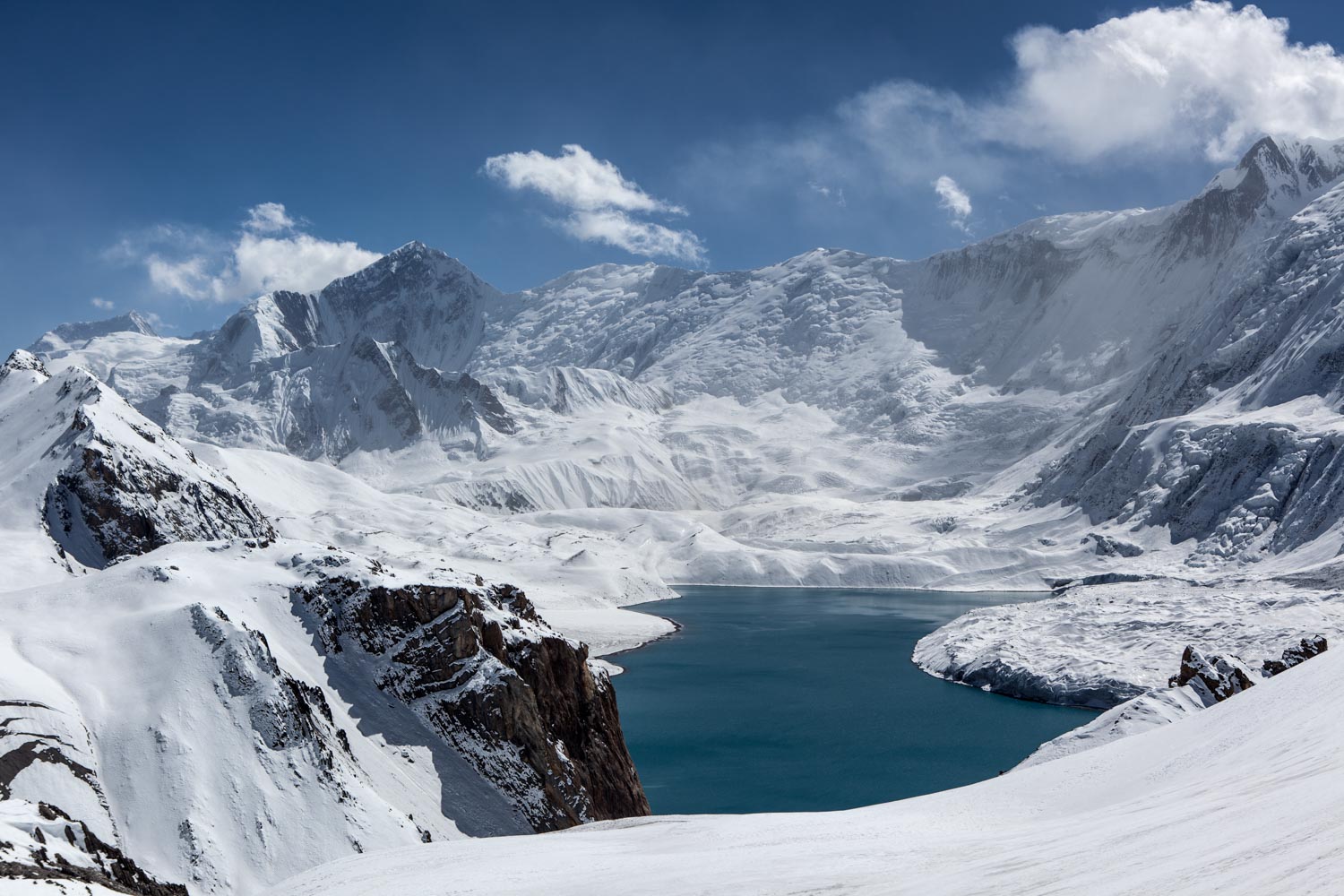 A wonderful hike combining nature and the 8th highest peak in the World.
By taking the paths of this trek, you will contend the Mount. Manaslu, being the 8th highest peak in the world. You will pass on footpaths near villages still very little visited rural Nepal. The Manaslu which rises to 8 152 m, is an opportunity to enjoy the hike in peaceful way being far from the noisy and modern world.
The hike takes place on an ancient trail where you can enjoy the authentic Nepalese culture and the hospitality of the locals. Get ready to enjoy the ancient culture and almost medieval lifestyle of the people as they move north.
This circuit promises you to see breathtaking views, you will see among others the Mount. Manaslu and the peaks of the Himalayas on the bottom.
The Manaslu region shares much of its culture and history with Tibet, its neighboring territory. Buddhism is a major religion because Buddhist monasteries, architecture and tradition can be seen all along the way.
The area has been officially opened to foreign tourists since 1991 and requires to have a trekking permit from the Ministry of Migration to visit this region.
Possibilities of doing from 10 days to 30 days trekking. N° of pax requires from 2 to 12.
DAY 1. AND 2: Departure from EUROPE - KATHMANDU
Day 2. Welcome by our local team and free time to discover the city.
DAY 3: KATHMANDU- ARUGHAT - SETI KHOLA
DAY 4: SETI KHOLA - MACCHAKHOLA
DAY 5: MACCHAKHOLA - JAGAT
DAY 6: JAGAT - DENG
DAY 7: DENG - NAMRUNG
DAY 8: NAMRUNG - SAMA GOMPA
DAY 9: SAMA GOMPA
DAY 10: SAMA GOMPA - SAMDO
DAY 11: SAMDO - DHARAMSALA
12: DHARAMSALA - LARKYA LA (5,150 M) - BIMTANG
DAY 13: BIMTANG - DHARAPAN
DAY 14: DHARAPANI - KOTO
DAY 15 : KOTO - DHARAMSALAO
DAY 16: DHARAMSALA - META - JUNAM
DAY 17: JUNAM GOTH - KYANG - PHU
DAY 18: PHU - KYANG -
DAY 19: MAHENDRA PUL - NAAR
DAY 20: NAAR - KANG LA PHEDI
DAY 21: KANG LA PHEDI - KANG LA 5,320 M - NGAWAL
DAY 22: NGAWAL - BRAGA - MANANG
DAY 23: MANANG - BASIC CAMP OF TILICHO
DAY 24: BASIC CAMP OF TILICHO - TILICHO LAKE - CAMP AT THE FOOT OF THE EASTERN PASS
DAY 25: CAMP AT THE FOOT OF EASTERN PASS - EASTERN PASS - MESOKANTO LA - CHAURIKHARKA
DAY 26: CHAURIKHARKA - THINIGAON - MARPHA
DAY 27: ROUTE MARPHA - POKHARA
DAY 28: Flight POKHARA - KATHMANDU
DAYS 29 AND 30 - Free time in Kathmandu and Departure to your destination
Note: Group Size: 2 to 12